Children's Tylenol Attorney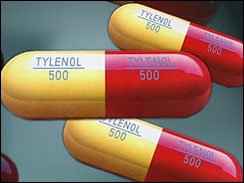 Johnson & Johnson's Recall Of Children's Tylenol And Other Children's Medicines
FDA issued McNeil a Warning Letter in January 2010 about the quality of its drugs and failure to adequately investigate and correct quality problems.
Also in early 2010, FDA followed up on a report of the death of a 6-year-old child who died after taking several of the products in question that were manufactured by McNeil. No contamination in the products was discovered.
The agency expressed its concerns to J&J management at an unconventional meeting in February 2010. "The Agency learned that McNeil was taking several major steps to address these issues, including implementing management reporting structure changes, hiring new managers, and engaging a third party manufacturing consultant," said Sharfstein.
In April 2010, FDA inspectors returned to one of the McNeil facilities in question—Fort Washington, Pennsylvania—but the facility was shut down before the inspection began due to manufacturing issues. Particulates were found in children's liquid medications, which led to the major recall of Children's Tylenol, Motrin, and Benadryl on Apr. 30, 2010.
Looking ahead, Sharfstein said FDA is "closely monitoring the implementation of a corrective action plan developed by McNeil that includes significant enhancements to its quality system, organizational changes, and senior management oversight. FDA will continue to investigate issues related to the Fort Washington facility including oversight related to renewal of manufacturing operations at that facility, to evaluate the facility's suppliers, and evaluate the compliance of all other McNeil facilities." He added that FDA is considering additional enforcement actions against the company.
Sharfstein detailed a few lessons learned from this case, including that FDA needs to more fully consider "the corporate structure" of a company and that it needs to review its recall process. "A range of activities are underway at the Agency to bring this vision to reality, including strengthening our criminal enforcement of FDA's laws," he concluded.