What do Keith's Clients Say?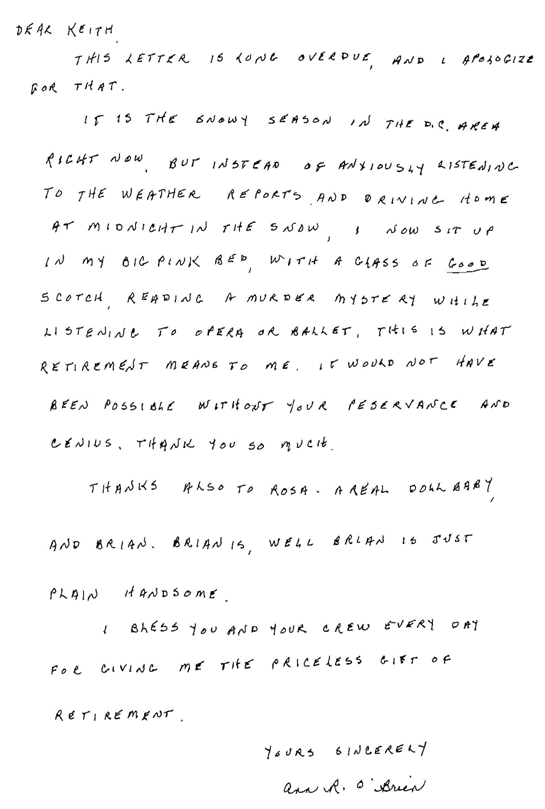 - Ann O'Brien Washington, D.C.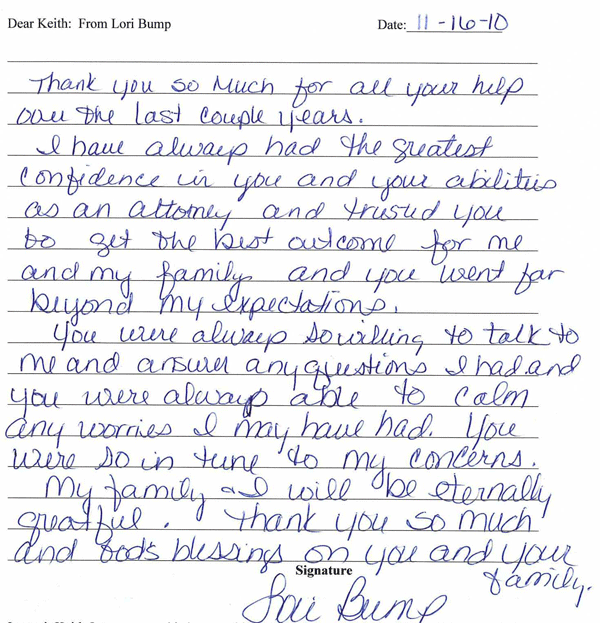 - Lori Bump Amery, Wisconsin
Hi, Keith.
"Thank you so much for being such a great help. You guys are AWESOME. I never believed I would prevail against the largest drug company in the world, but with your help, I did. Thank you also for all the hard work you did on this case and your commitment to Savannah and myself. You are truly a great lawyer and a super man. I am delighted to have the opportunity to let everyone know how wonderful you and your staff are. Anyone who would have the pleasure of having you as their attorney is truly blessed."
Thanks again
Kristine Marte, Sisseton, South Dakota
Dear Keith,
"Thanks to you my life has changed forever. You and your staff worked diligently on my behalf and that of other litigants to ensure justice was served against one of the largest drug companies in the world and you won. Your concern for your clients is amazing. You truly do what you do for what is best for the client. It was a pleasure working with you and your staff. May you have continued success."
Laura Shields, Boiling Springs, SC
Dear Keith,
"I do appreciate your ethical and moral compass. To be honest Keith, after spending so much time with you, I really would not have expected anything else. I know how hard you worked to plan for every contingency nearly on a nightly basis. You sacrificed in every way to plead our case. I believe my representation with you was excellent. You were patient, kind and convincing. I hope that you will have a fantastic Father's Day."
Carol Pfeiffer, Phoenix, AZ
Dear Keith,
"You did a wonderful job at trial in your representation of the three of us. If anything you were over prepared. There is no doubt in my mind that you were better prepared and knew all the information better than [the drug company] folks. Our expert witnesses were outstanding. Needless to say, if the need were to arise I would not think twice about having you represent me again.
Marcie Bircumshaw, Phoenix, AZ
Dear Keith,
"Deposited check yesterday...what a thrill! You have my sincere thanks, gratitude and respect for all your intelligent, diligent work on my behalf."
Joel Tannery, Dallas, TX
Dear Keith,
"This letter is to thank you and your staff for the outstanding services that you have provided to me. This all became possible, because you made a difference for people (like me) by reminding multi-million dollar drug companies that they can't forget the people victimized when things go wrong. Needless to say, calling you was one of the best things that ever happened to me in my life. Happy New Year to you, your family and staff, and good health. Again, I could never thank you enough Keith! Take care and thanks again."
Kamile McKevis, Chicago Heights, IL
Dear Keith,
We truly thank you for being there to represent us in our time of need. Thanks also for the other members of your law firm.
You handled our case very professionally. We understand it was an uphill battle, but with you we won the battle, against one of the biggest drug companies in the world. We had tried several lawyers before you took our case and didn't get anywhere.
Our lives have been changed in a great way forever because of your hard work. We would recommend you and your firm to anyone.
Vertistine, Goodlettsville, TN