Keith Jensen obtained the largest verdict in NH history and that case is before the U.S. Supreme Court
Case involves woman who had a serious reaction to a generic drug
Supreme Court reveals little about how it might rule in the case
Generic drugs account for an estimated 80 percent of all prescriptions
Drug company says it cannot comply with both federal and state demands

Generic drug safety argued at high court
By Bill Mears, CNN Supreme Court Producer
updated 9:05 AM EDT, Wed March 20, 2013
Washington (CNN) -- Karen Bartlett walked gingerly down the marble steps of the Supreme Court on Tuesday, guided on the arms of her lawyer. She is legally blind, the result of a serious reaction to a generic drug.
Her medical condition was debated before the justices, testing whether federal law prevents her multi-million-dollar "design-defect" judgment against the pharmaceutical company from standing up in state court.
A cautious bench revealed little about how it will rule in this closely watched case.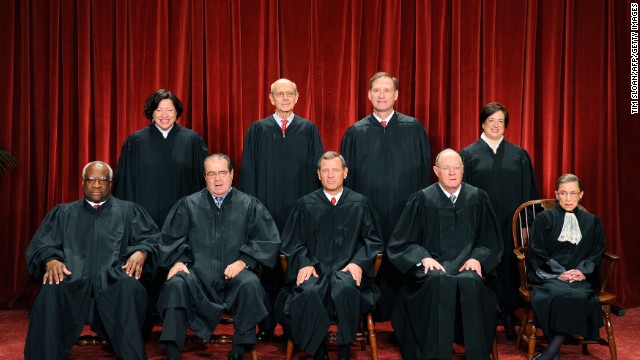 Photos: Today's Supreme Court
Generic drugs account for an estimated 80 percent of all prescriptions and patient-rights advocates say companies should be held accountable for unsafe, poorly made products regardless of whether they are brand name or generic.
That number is expected to rise in coming years with patent protection due to expire on several popular and lucrative consumer drugs, including Lipitor and Viagra.
The blockbuster health care reform bill championed by President Barack Obama would also encourage greater use of generics. About a third of generic drugs have no brand name competitors.
But Mutual Pharmaceutical counters it received Food and Drug Administration approval and that it cannot comply with both federal and state standards of care when it comes to drug safety and marketing.
The state jury "didn't say that 'yes, you can market this drug, it benefits 99.9 percent of the people, but there is that 0.1 percent, and you're going to have to compensate that person," said Chief Justice John Roberts. "They said the risks outweigh the benefits, period. So you should not market this at all. And that does seem inconsistent with the federal regime."
But Justice Elena Kagan suggested the company could be held responsible.
"We are not really dealing with generics; we are also dealing brand-name drugs," she said. "As to design [claims], don't the brand-name and the generics go hand in hand?"
Federal law requires generic drug makers to provide identical ingredients, warnings, and labels as brand-name products.
Bartlett suffers from Stevens-Johnson Syndrome, a lifelong debilitating disease that requires constant application of drops in her damaged eyes.
After complaining of shoulder pain in 2004, the New Hampshire woman was given a generic form of Sulindac, a non-steroid anti-inflammatory.
A rare hypersensitivity side-effect soon developed, causing her outer skin to burn and leaving open wounds on more than 60 percent of her body.
She was placed in a medically-induced coma for 100 days and suffered lung and esophageal damage.
Nine years and 12 surgeries later, Bartlett looked weak and needed help standing on the high court plaza after arguments.
A state court jury awarded her more than $21 million in compensatory damages, finding the generic was "unreasonably dangerous." Mutual eventually took its case to the high court.